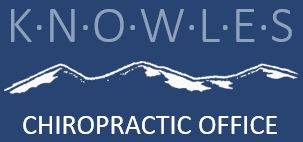 "I started with Dr. Knowles over two years ago for a running injury. He clearly explained the issue and how he would treat it. In the end, he got me back into a pain-free running state. Excellent service, friendly and professional."
Knowles Chiropractic Office
12792 W. Alameda Pkwy Suite E
Lakewood CO 80228

Phone/Fax: 303-988-8823
Need someone in addition to a chiropractor? Here's who we recommend ...
Dentistry
Dr. Richard Callahan, DDS.
12790 W. Alameda Pkwy, Suite B
Lakewood, CO 80228
303-984-2630
http://www.callahandds.com/

Optometry
Dr. Kevin J. Krajewski, OD FAAO
Foothills Vision Center
12810 W Alameda Pkwy Unit B
Lakewood, CO 80228
303-986-5565
http://www.foothillsvision.com/

Physical Therapy
Tom Hermsen, P.T., C.S.C.S.
Physiotherapy Associates
660 Golden Ridge Road, Suite 130
Golden, CO 80401
303-275-2190
Dr. Roger Knowles has cared for me and many of my staff for many years. He is a skilled, experienced provider who has always given us excellent care. I highly recommend his services.
-Dr. Rich Callahan, D.D.S.
I would recommend Dr. Knowles based on my own personal experience with him. After injuring my back and experiencing some of the worst pain of my life, Dr. Knowles was able to restore mobility to my back and resolve my pain so that I could run the Mt. Evans Ascent two weeks later. He is great at what he does and I would not hesitate to visit him again.
-Dr. Kevin Krajewski OD
Dr. Knowles has been in my life for over 14 years, he has worked on me while I was pregnant, sick (sinus infections), injured or just sore and exhausted while I was obtaining my master degree. He has had a huge impact in my life helping me obtain all of my goals. I trust him and the work he does. I wouldn't have made it this far, feeling so well without him! I have referred my family and friends.
THANK YOU Dr. Knowles!
-Liana Christensen